Check out what's keeping us busy with regards to workshops and events. Would you like to participate in a storytelling workshop? Click on the event for more information or to register. Do you have a question? Please contact us.
For a look at the schedule of our performances, go to the Theater \ Lab site.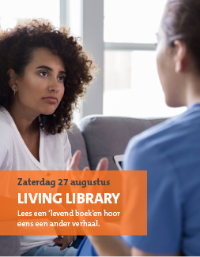 27 August 2022
In the Living Library you don't read or borrow a book, but a human being.
An interesting person, with a life course that is probably very different from yours. In short, a person that you do not normally meet and share stories with in your daily life.
Read more about this Storytelling Centre Amsterdam event » »
Would you like to know more about this event or talk to us about it?