We are Storytelling Centre
knowledge - training - theatre
Knowledge

Training centre

Theatre producer
By creating and sharing stories together, we ensure personal growth, social impact and language development. Our methods are used worldwide by professionals in care and education, on the street and in the office.
Join the world of storytelling.
We are specialised in applied storytelling, amongst others with trainings for personal development, counteracting polarisation and learning a language. This has given us an enormous amount of knowledge. This knowledge has been bundled in a number of methods and various books, which we have used worldwide towards a better society. And we produce storytelling in the theatre. Because storytelling or, as we increasingly call it, 'storysharing' contributes to a greater understanding of another person, more knowledge about yourself and your own motives, and also to more fun and positive results when learning a language. 
We are convinced that in a balanced, culturally diverse society, there should be room for everyone's story: especially in times of intercultural tension. We offer a platform for all those stories, in the theatre and beyond. We bring people closer together with stories: that is our main motive.
We believe in the power of sharing stories.
For companies, civil society organisations, NGO's, and for you!
What you learn in our training
Who can benefit from our trainings
Take a look at our recent trainings and projects
In addition to being an international training centre and theatre and festival producer, Storytelling Centre is also a knowledge bank. Since our establishment in January 2012, applied storytelling, which started with neighbourhood projects in Amsterdam Osdorp as part of a festival, has become an increasingly important part of our work. In 2015 this was given an extra impulse by participating in European Innovation Projects (Erasmus+). We were given the opportunity to further develop and deepen methods – including the unique Share to Connect method – and techniques
Arjen Barel's wrote the book 'Storytelling and the World. About this he says: "Over the past six years I have made an interesting journey along different places with many different people. I learned how we can create behavioural change and therefore social impact by sharing stories. On the one hand I wanted to share this with more people, so this book is partly an account of that journey.
But it is also a handbook. To facilitate other people to make that journey as well. We, at Storytelling Centre, have developed a lot in those six years. The last chapter contains our Share to Connect method. It helps to engage in storytelling and story sharing. In order to help people and communities, strengthen them and ultimately contribute to – and that sounds very corny – a better world.' 
This book will be translated in English soon, so keep an eye on our site or socials for the exact date that it will be published.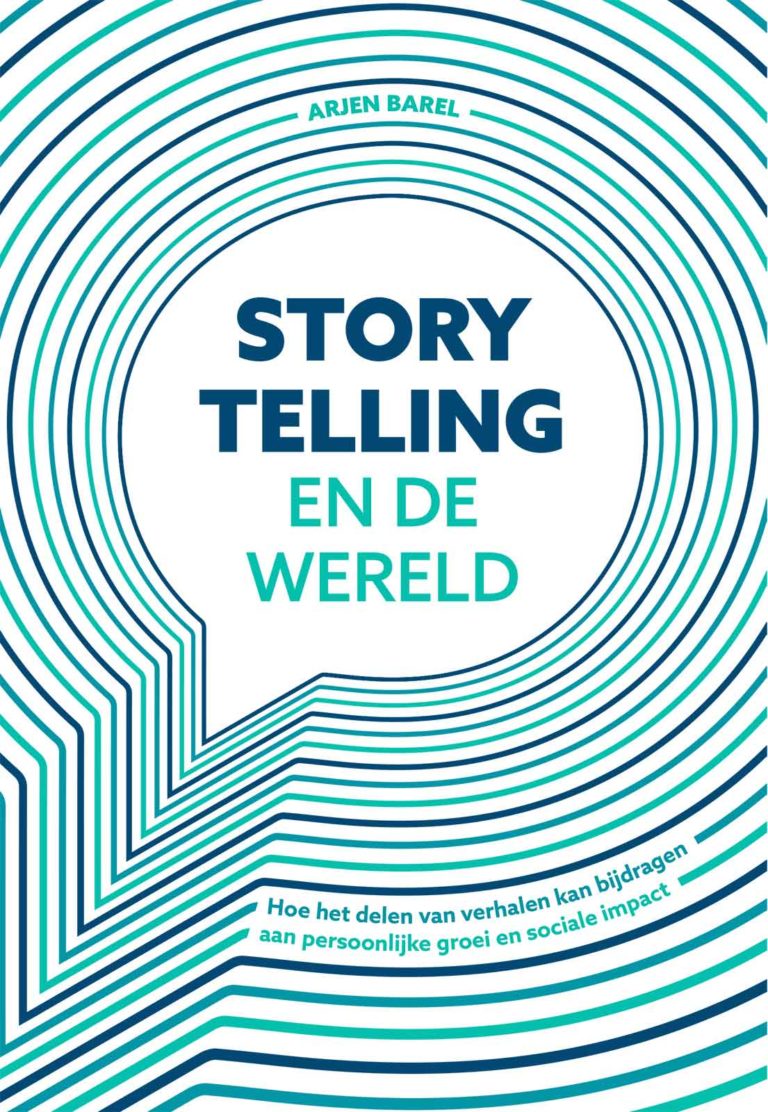 We love live storytelling in the theatre.
The Storytelling Centre has two locations where it presents live storytelling to an audience. The Storytelling Theaterlab and the famous Amsterdam Storytelling Festival.
Theatrical storytelling is different from applied storytelling, yet the two overlap in our working method. Many of the exercises we use come directly from the theatre, especially the team building exercises and the exercises aimed at stimulating creativity. Techniques from the theatre are very suitable for connecting people and influencing group dynamics. Creating and sharing a story is a dramaturgical process in which logical and understandable construction plays an important role. In addition, theatrical techniques such as speaking clearly, applying rhythm and musicality are part of the experience, which contributes to the connection between narrator and listener.
With Theaterlab and The Amsterdam Storytelling Festival we produce various interesting performances, always with (personal) stories as a starting point, but otherwise as diverse as theatre can be. We often offer a stage to people you don't easily meet in the mainstream theatre world and the stories are socially relevant. Come and have a look!
Read more about Theaterlab and the Storytelling festival
Get in touch and find out how our services can improve your company, organisation, customers or constituents.
Would you like to stay informed about our latest projects, trainings and relevant research? Sign up for our newsletter.